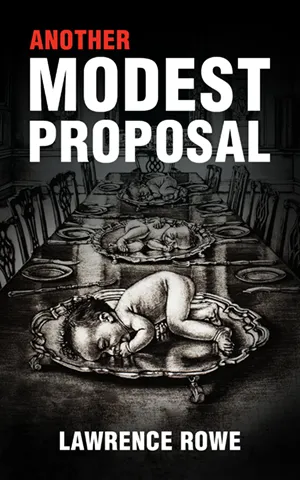 The Sanguine Sequel to the Infamous Classic
Swift's A Modest Proposal is one of the most renowned satires in English literature. Lawrence Rowe's sequel Another Modest Proposal offers a poignant solution to the persistent problem of poverty. Penetrating and chock-full of dark humor, Another Modest Proposal is a savage indictment of humanity.
It is expected that the blood of disposed individuals will be drunk for nourishment, as the Maasai do with cattle, which is a yield increase not accounted for in conventional dressing percentage and caloric metrics. Human blood contains about 300 calories per pint. The average human has eight pints of blood, or about 2,400 calories of blood. Those inclined to disparage the accuracy of the dressing-percentage calculations presented above should be aware of this blood-calorie allowance.
One cattle farmer I spoke with worried that once residents of least-developed countries are eating regularly, they will become a stouter, beefier, Angus-like stock, body weight will increase, and more and more humans will have to be butchered because each body would require more calories. However, each butchered human will also be providing more calories. The concern in this situation that a population may outgrow its food supply is nonsensical. It is impossible for a population to outgrow a food supply when the population itself is the food supply, unless it is reduced to one weak-willed individual.