THE FOUNDING FATHERS RETURN
"THE BEST NARRATIVE OF THE 1787 CONSTITUTIONAL CONVENTION THAT I HAVE EVER READ."
AMAZON REVIEW
"READ THIS BOOK!"
AMAZON REVIEW
"MAKES MANY OF THE TWO-DIMENSIONAL HISTORICAL FIGURES OF DRY TEXTBOOKS COME ALIVE AS REAL PERSONS."
AMAZON REVIEW
"THE BOOK IS VERY ENTERTAINING."
AMAZON REVIEW
"ROWE HAS A PARTICULAR TALENT FOR WRITING WHAT ALMOST SEEMS TO BE A THROWAY PHRASE OF DIALOG AND PUTTING IT INTO A CHARACTER'S MOUTH (ESPECIALLY FRANKLIN'S) THAT IS WITTY, TRENCHANT, AND ABSOLUTELY TO THE POINT."
AMAZON REVIEW
"MAKES MANY OF THE TWO-DIMENSIONAL HISTORICAL FIGURES OF DRY TEXTBOOKS COME ALIVE AS REAL PERSONS."
AMAZON REVIEW
"THE BOOK IS VERY ENTERTAINING."
AMAZON REVIEW
"READ THIS BOOK!"
AMAZON REVIEW
"ROWE HAS A PARTICULAR TALENT FOR WRITING WHAT ALMOST SEEMS TO BE A THROWAY PHRASE OF DIALOG AND PUTTING IT INTO A CHARACTER'S MOUTH (ESPECIALLY FRANKLIN'S) THAT IS WITTY, TRENCHANT, AND ABSOLUTELY TO THE POINT."
AMAZON REVIEW
"THE BEST NARRATIVE OF THE 1787 CONSTITUTIONAL CONVENTION THAT I HAVE EVER READ."
AMAZON REVIEW
"MAKES MANY OF THE TWO-DIMENSIONAL HISTORICAL FIGURES OF DRY TEXTBOOKS COME ALIVE AS REAL PERSONS."
AMAZON REVIEW
"ROWE HAS A PARTICULAR TALENT FOR WRITING WHAT ALMOST SEEMS TO BE A THROWAY PHRASE OF DIALOG AND PUTTING IT INTO A CHARACTER'S MOUTH (ESPECIALLY FRANKLIN'S) THAT IS WITTY, TRENCHANT, AND ABSOLUTELY TO THE POINT."
AMAZON REVIEW
"THE BEST NARRATIVE OF THE 1787 CONSTITUTIONAL CONVENTION THAT I HAVE EVER READ."
AMAZON REVIEW
"THE BOOK IS VERY ENTERTAINING."
AMAZON REVIEW
"READ THIS BOOK!"
AMAZON REVIEW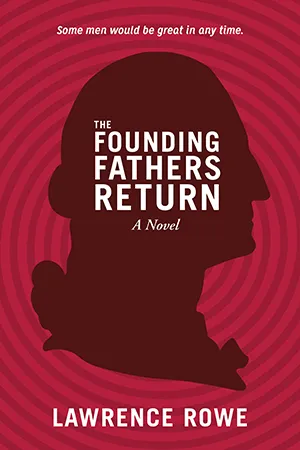 The Founding Fathers Return
Some men would be great in any time.
In the novel The Founding Fathers Return, George Washington, Thomas Jefferson, and Benjamin Franklin suddenly and mysteriously find themselves in the present day.
It is a contentious time in America. Liberty is waning. Present leaders seem unequal to the challenges which America faces. At this precarious juncture in United States history, the wisdom of the Founding Fathers is more relevant than ever. The Founders face difficult questions as they confront modern America. Is the isolationism they advocated an anachronism? Can the limited government they envisioned still secure the blessings of liberty? Who brought them to the future, and why? The Founding Fathers Return offers readers the one-of-a-kind opportunity to spend time with the Founders in the present day, to truly get to know them, and to solve America's problems with them.
EXCERPT
One
George Washington peered at Benjamin Franklin and blanched.
"By Providence! Doctor Franklin."
George Washington peered at Benjamin Franklin and blanched.
Washington squinted, causing gash-ed wrinkles to afform between his eyes.
"Good Doctor?" he said.
"In the flesh," Franklin said.
Washington's right hand crossed his body and made for his Sword, but it found air only and stuttered in its motion, like a person tripping. Washington glanced at his left sword hip and his eyes bulged with Surprize. He scowled and returned his attention to Franklin. Washington approached slow and cautious, a figure of lithe Musculature and a ferocious Visage. He reached out with his left hand, moving it slower as it drew nigh Franklin, as if he thought him a Ghost or mirage.
Franklin knew Washington would never harm him, but bloody Hell was he fearsome.
Right fearsome.
Franklin could not help but step backward.
Washington poked at Franklin. His prod was unexpected gentle given his Strength and gargantuan Hands. Washington seemed surprized to encounter flesh-ed resistance, however corpulent.
Franklin chuckled.
"I said in the flesh."
"You intended for Charon's ferry," Washington said, "some seven annums prior."
"Helpful to know."
"Imperturbable as ever."
"Even in Death," Franklin said.
Washington frowned, encreasing the puffiness about his lower mouth from his false Teeth. Some colour returned to his face though. Or so it seemed. The skin of Washington's face was typical ashen grey, so 'twas difficult to reckon certain.
"My hair came to Attention," Washington said. "Upon my neck especially. I was engulphed in a prodigious Flash."
"A bleu Flash," Franklin said. "As a landspout wrought of electric Fire. And here we are?"
Washington surveyed the surrounding forest.
"Where is here?" he said.
Franklin shrugged.
"The malaria," he said, "smells sweeter than that of Philadelphiay."
"Scarce the malaria that fouler."
"No smell of shambles here. Nor tanner nor sewer nor garbage. No Shite of horse. Not even a Necessary, 'twould seem. You look elder than when I saw you last."
"Seven annums elder?" Washington said
"Perspicacious question. You condescended to incarcerate the Executive?"
Washington but scowled, an emphatick indicator he had.
"You lived to see me inaugurate."
"That a question?"
"Nay."
"Yet I must answer nay," Franklin said. "For I have lived not to see you inaugurate."
Spruce shadows cloaked a Figure as he approached the clearing. He was tall. As a greater portion of him grew visible, his lankiness became self-evident, though 'twasn't that of a frontiersman. To Franklin, the Figure's incoordinate lankiness seemed that of a Scholar or Phylosopher.
"Gentlemen?" the Figure said.
The voice was soft, so soft 'twas difficult to hear, but Franklin discerned an effeminate quality, even though manifest male.
"How does the afternoon?" the Figure said.
The voice was closer, clearer, and Franklin recognized it nigh immediate.
'Twas Thomas!
His old friend Thomas.
As habitual, Thomas had a loose, shackling Air about him. His incoordinate movements conveyed not just joy and optimism, but a youthful Exuberance.
"George?" Thomas said. "Doctor?"
"Yea," Washington and Franklin said in unison.
"How is it," Thomas said, "that you are both still a living?"
"I was about to put the same to Doctor Fr—"
As Thomas Jefferson absented shadow, Washington's reply died and he froze.
"You're antient," Franklin said.
Thomas smiled wistful, showing but little of his teeth.
"Aye, Good Doctor. Antient though thankful not infirm."
Franklin was as intrigued as he was surpriz'd. He was brought to bed in 1706, Washington in 1732, and Thomas in 1743. The Thomas he knew was thirty-seven annums his junior, and middling age-ed.
"I was subsumed in a whirlwind Electric," Thomas said, "Indigo as of Lightning, perhaps tending to a lilac or white. 'Twas fascinating. And affrightening. Not just affrightening, terrific. Right terrific. I felt my hairs a tin—"
Thomas seemed to observe recognition on Washington and Franklin's faces and truncated his intercourse.
"I may be elder," Thomas said, "but you've both been dead for decades."
"I've no memory of dying," Franklin said.
"Nor I," Washington said.
Shock saturated Franklin as he confronted the supernatural implications of his circumstances. Their circumstances. Judging by their consterned visages, Thomas and Washington experienced similar Feelings.
"I must be ripe for Bedlam," Thomas said.
The Priory of Saint Mary of Bethlehem, or The Bethlehem Royal Hospital, was the first lunatick Asylum in Britain. Bedlem or Bedlam were abbreviates of Bethlehem.
"If you are ripe," Franklin said, "then I am rotten, tho' I think both circumstances improbable. I have never heard of a case of collective Lunacy, the delusions of Empire not with standing. Let us meet crisis with Temper and consider rational explanations."
Thomas chuckled nervous.
"Our situation," he said, "seems scarce rational."